Bring your Boat to On the Track Lodge
The Nydia Track is a challenging walk/easy tramp much loved by all those who walk it.  The Track passes through farmland, forest and native bush and rewards visitors with some spectacular coastal views.  However, travelling to the Lodge via your own boat is also a tempting alternative (or you can hire a water taxi – please see our location page 'Getting to the Lodge by Water' for details).
The advantages of coming by boat include speed and time savings, plus a comfortable way to travel for all ages and fitness levels, and the option to bring more luggage/catering supplies. Havelock Marina offers pay and display car parking.
Most importantly, you get a chance to see the Pelorus Sound from the water, going wherever you please, peeking into its myriad of bays. You will see marine sea birds and if you are very lucky sometimes dolphins, seals, stingray, penguins and even orca make an appearance.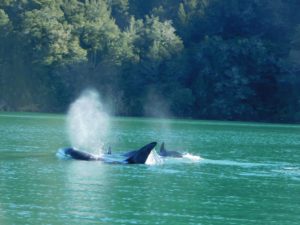 On the Track Lodge can offer a complimentary mooring in Nydia Bay for guest use (contact us in advance to discuss arrangements).  At high tide, luggage and guests can climb to shore right outside the lodge – and there is always the Nydia Bay jetty (a 15 minute walk from the lodge) where boats can tie up for short periods of time.
Boaties like to use On the Track Lodge as a base for exploring the Pelorus Sound – its ideal for those who want to be on the water by day and yet enjoy the land comforts of catered hot meals, flushing toilets,  hot shower and soft beds by night.
Please call or email On the Track Lodge for any further information or help in planning your visit.