On the Track Lodge is a natural choice for beautiful, relaxed weddings and informal events in the Marlborough Sounds.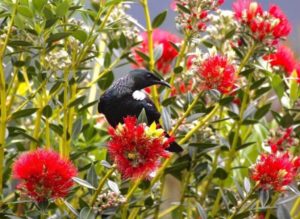 We offer:
 A spectacular and unique natural setting – bush, sea, night skies.
Privacy, peace and tranquility – Nydia Bay is a 4-5 hour walk in or a 45-minute boat ride with no road access.
The whole lodge for exclusive use.
Charming, comfortable lodge style accommodation and well-appointed communal indoor and outdoor spaces with large veranda.
Tasty, fresh and healthy food or the option of doing self-catering.
 A range of accommodation options – single, couples and shared including chalets, a cottage, yurt and converted train carriage.
Getting to the Lodge
Walkers – Many visitors to the lodge come by foot – walking the beautiful Nydia Track from Kaiumu Bay (4-5 hours) or from Duncan Bay (4-5 hours). Your guests might like to add the Nydia Track experience to their celebrations with you. A reasonable level of fitness is required and we can arrange transfers to and from Havelock and the track. More details available at https://www.doc.govt.nz/globalassets/documents/parks-and-recreation/tracks-and-walks/nelson-marlborough/nydia-track.pdf
Mountain Bikers – For the thrill seekers – the Nydia Track is a level 4 ride for mountain bikers.
Boaters – Other people prefer to arrive and depart by boat. The Pelorus Mail Boat is a relaxed cruisey way to travel the Pelorus Sound and runs daily throughout the summer. There are also water taxi options for quicker, personalized travel. We are happy to help you organize your transport to and from the lodge.
Please note there is a 15-minute walk from the jetty to the lodge. We can transfer some of your group's gear from the jetty using a motorbike and trailer depending on the tides. We cannot access the beach at high tide because we drive across the beach, so forward planning is essential – contact us to discuss.
Your own boat – Your own boat(s) can come up the channel in front of the lodge 2 hours before and 2 hours after high tide. We have a mooring available on request.
Accommodation
We have 25 beds set out as follows:
Chalet Keruru:
· Queen bed upstairs
· Two single beds downstairs
Chalet Piwakawaka:
· Queen bed upstairs
· Queen bed & 1 single bed downstairs
Chalet Tui:
· Queen bed upstairs
· Queen bed & 1 single bed downstairs
Sea-Side Cottage
· Queen bed upstairs (steep stairs)
Train carriage (South side)
· Queen bed
· Private bathroom
Train carriage (North side)
· Queen bed
· Private bathroom
Yurt
· 6 single beds
*Other than the train carriages, guests share our beautiful bathroom facilities.
Campers: we can accommodate some people in their own tents. The DOC lodge is also an alternative option for extra guests; this is a 10 min boat ride across the Bay (tide dependent), a 15 min bike ride or half-hour walk.
Entertaining
We can seat 22 people inside the lodge and there is lots of seating around the deck outside.  Depending on how many people you expect at the party; we may not have enough seating for everyone inside the Lodge.
We have space for you to put up a marquee on the lawn.
Food and meals; we are happy to work with you on a menu or you can arrange a caterer. We have an outdoor pizza oven – be aware though it can only cook one pizza at a time. We can provide all meals (breakfasts, lunches, dinners) or some of them.   We provide instant and plunger coffee, tea, sugar and milk.
We provide the basics in the lodge however you will need to provide any decorations, candles, flowers, sound system etc.  We can also put you in touch with a good local wedding planner if you need one.
For more details: stay@onthetracklodge.nz  or ring 03 579 8411
We look forward to helping you with making your event or celebration special.